[Chuck came to our 50th reunion and provided the following photo as a bit of nostalgia from his glory days. Read below the photo for earlier communications. Click here to read about Douglas vs. Douglas.]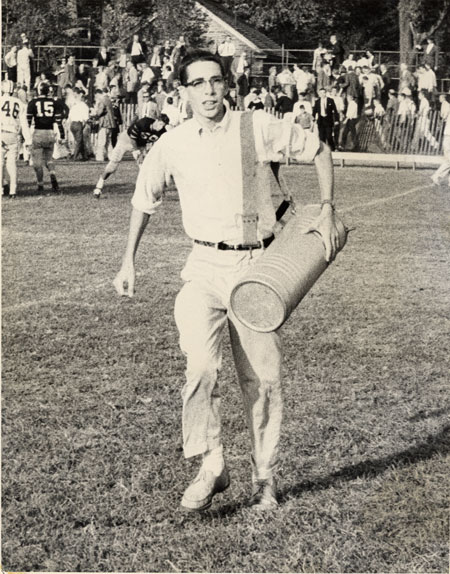 [Email from 2005]
Dear Classmates,

I was sorry I couldn't make it to our 45th. I pledge to live on and attend our 50th. You do the same! My son Charlie was born in Concord, lives in Princeton and married a girl from Haverford. Believe it or not I was down the prior weekend for my grandson's second birthday, but couldn't get down the next weekend too. Best wishes to Rich Rulon and Dave Scott on their new business ventures. Sorry to hear of Lou Connick's death. But you all looked good for old folks!

Yours,
Chuck Douglas
[Write-up and photo from 2000]
After college and B. U. Law School I began private practice in New Hampshire and got interested in the political campaign of someone who later was elected governor in 1972. I served as Legal Counsel and Legislative Counsel to the Governor and then was appointed to the Superior Court in 1974. Obviously, that did not occur by divine intervention, but it was a great opportunity to take at an early age. In 1977, I was elevated to the State Supreme Court where I served until 1985.
The Supreme Court experience for eight years was exciting and challenging, but I began to realize that I had taken a judicial position at too early an age and missed the trial arena. In 1985, I resigned my lifetime position to go back into private practice where I have been much happier. I enjoy working with people and trying cases and have carved out a niche as a plaintiff's employment trial lawyer doing harassment, wrongful termination, etc.
My private practice was interrupted by a two-year hitch in Congress in 1989 and 1990, where I served on the Judiciary Committee. My tenure in Congress was involuntarily terminated by election earlier than I had planned, but since 1990 I have enjoyed practice with four young attorneys who have been with me for the last few years.
While I am proud of the work that we do, I'm more proud of my two sons, Charlie and Thomas who are married, gainfully employed and were never arrested for anything (to the best of my knowledge). As for me, marriages have come and gone and I must admit that is probably part of my emphasis on work over home and family. In any event, at age 57 I enjoy traveling and am now married to a woman who is an old friend and with whom I feel most compatible. I may finally have figured some of this game out. All in all, I have no regrets and have enjoyed the challenges that life has given me, even though the test always preceded the lesson.