[Write-up and photo from 2000]

Education: BS Economics, 1964 University of Pennsylvania MBA with Honors,1995 University of Chicago

Business: Price Waterhouse, 1964 to 1969, Auditor and consultant Globe Rubber Products,1969 to 1972, VP Finance and Director Emery Air Freight,1972 to 1975, Treasurer Roberts Express, 1976 to 1988, President and Owner Roadway Services, 1988 to 1990, Group Vice President and Director Palm Beach Atlantic College, 1998 to 1999, Director of Entrepreneurship Holland Pump Co, 1999 to date, President and Owner. My son Billy works with me.

Personal: Married Cecile Clover, 1962; divorced 1973; 2 children William and Burtt. Billy is married and has 3 children. Married Nancy Congdon, 1975; divorced 1987; no children. Married Alicia Coumo, 1988 to date; no children by our marriage. We are very happy. Sailed around world from 1990 thru 1997 on our sailboat Pegaso. Alicia wrote a book about our experience called Just the Two of Us.

Civic-current: Palm Beach Civic Association, Director American Cancer Society, Palm Beach, Vice Chairman Palm Beach Atlantic College, Trustee

Hobbies: Love tennis and sailing, play golf and bridge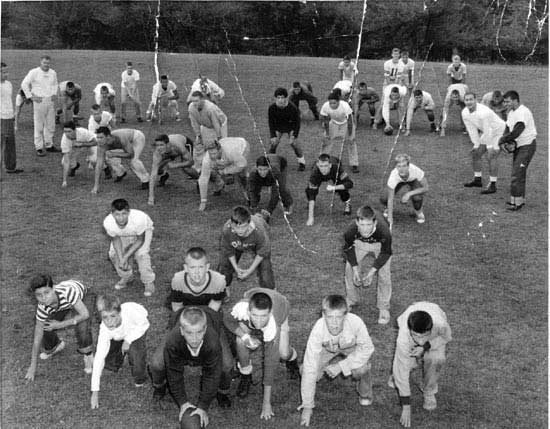 "I am in the rear making believe I'm the quarterback. I think I see Alan and Duncan McFarland in the front row."