Obituary
In Memory of Richard William "Dick" Berlinger, 1942 - 2015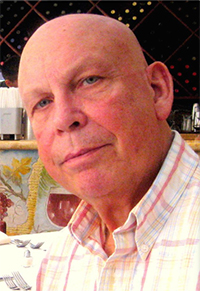 Richard William "Dick" Berlinger, Esq., age 73, a resident of Fort Washington, PA for the past 16 years and formerly of Abington, PA and Meadowbrook, PA died on November 14, 2015. He was the beloved husband of Nora Jane Land Berlinger for 41 years.
Born in Philadelphia, Dick was the son of the late Frederick Gottlob Berlinger and the late Anna Gertrude Martin Berlinger. Dick graduated from the William Penn Charter School in 1960. In 1964, He earned his undergraduate degree from The University of Pennsylvania, where he was a member of the Glee Club. He later studied law at Temple University and earned his Juris Doctorate in 1967.
After graduating from Temple Law School, Dick began his professional career with the law firm of Waters, Fleer, Cooper & Gallagher. He was there until 1972 when he joined the firm of Malis, Tolson & Malis. In 1980, he began his private practice and was still practicing law at the time of his death.
Dick was a long-time member of the Montgomery County Bar Association. During his membership, he served as President of Trial Lawyers and as Chairman of the By-Laws Committee. He also served on the Real Estate Committee, Family Law Committee, Board of Directors, Mentoring Committee, Civil Practice Manual Committee, Judicial Committee, Bench Bar Committee, and on the Montgomery County Child Advocacy Program. He also had admittances on the Pennsylvania and Supreme Court of the United States Bars.
Dick served on as Judge of Elections in Montgomery County.
He was an avid sailor and current member of the Corinthian Yacht Club of Philadelphia. He was a former co-founder of the Union League of Philadelphia Yacht Club. He proudly finished multiple off-shore races from the U.S. to Bermuda and Canada. In addition, he was a member of the Philadelphia Ship Modeling Society.
Outside of his sailing interests, he was a skilled handyman and enjoyed furniture-making and had previously been a member of the Gilbert & Sullivan Players of Philadelphia.
Dick was a 35-year member of Grace Presbyterian Church, where he was a member of the Chancel Choir, was an Ordained Elder, and formerly chaired the Property Committee. He was a former member of St. John's Lutheran Church in Elkins Park.
In addition to his wife, Nora, Dick is survived by his cherished son, Richard Eric Berlinger of New York, NY.
Memorial Service will be held at Grace Presbyterian Church, Old York and Vista Roads, Jenkintown, PA at 11:00 AM on Friday, December 4, 2015. Friends will be received after the service. In lieu of flowers, memorial contributions may be sent to Grace Presbyterian Church, Attn: Music Program, 444 Old York Road, Jenkintown, PA 19046, or to The Bruce Montgomery Foundation for the Arts, P.O. Box 1565, Blue Bell, PA 19422 (www.brucemontgomery.org) or to Corinthian Sailing Foundation, Attn: Youth and Underprivileged Sailing Programs, 450 Sentry Parkway, Suite 103, Blue Bell, PA 19422.