[Photo from 2015 of Jim and Susan]]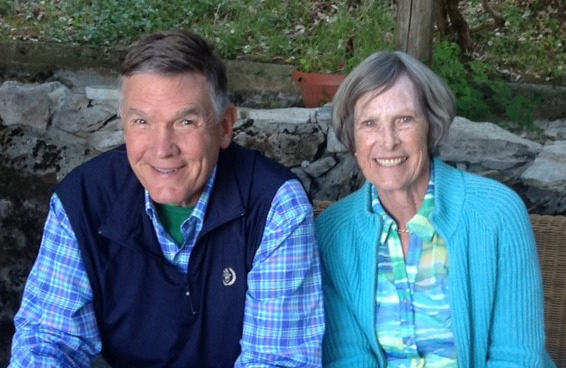 [Write-up from 2000]
Born: August 27, 1942, Germantown, PA. College: U.S. Naval Academy. Degrees: B.S. Naval Science; M.S. Operations Research/Systems Analysis Naval Post Graduate School, 1969. Married: Susan Cleaveland Sheppard, July 31, 1965; B.A., Univ. of Pennsylvania, 1965. Children: James M. Arrison IV, 1969; Anne Dixcy Arrison, 1971. Grandchildren: James M. Arrison V, 1997, William T. Arrison, 1999.
Occupation: Certified Financial Manager, Vice President, and Senior Financial Consultant in the Private Client Group, Merrill Lynch. Military Service: U.S. Navy 1964-1991, Captain, Commanding Officer Swift Boats (PCF-80 and 81), USS John Hancock (DD-981) and USS Ticonderoga (CG-47). Decorations: Numerous campaign medals, Combat Action Ribbon, Navy Achievement Medal with Combat V, Legion of Merit, Bronze Star.
Observations on Life and Times
At the core: Honesty and integrity are essential -- Sine qua non. Individual performance is vital but teamwork multiplies it -- two plus two equals five. Nothing is more pleasurable than beating a better qualified team. Our motors have one speed. If we work hard, we play hard. If we are focused and energetic when we're young, we tend to stay that way. Possessions make us comfortable but we only rent them. There's great joy in charitable giving. The more I give away to the church, the Naval Academy, or to P.C., the wealthier I become. I am puzzled by this interdependence. Family is everything. I will die with a smile if my family is with me when God calls.
Wisdom imparted by others: If you want to make God laugh, tell him your plan. I wish I had the time to write a short letter. Instead, I will write a long one. A problem with Americans is that they think every problem has a solution. It's not possible to dislike a person who likes you. This is just the beginning.
Largest regrets: Not taking more time to plan significant events. Responding with emotion rather than reason. Selfishness. Prejudice. Laziness. Not telling people that I loved them often enough.
On education: Good Instruction leads to Riches. Core values from Penn Charter; training at the Naval Academy; awaking, confusion, reality in Vietnam; education at the Post Graduate School.
Occupation differences: In the Navy, the harder you work the more work you get. As a civilian, the harder you work the more money you earn.
Favorite Movies: The Great Escape and Breaker Morant.
Favorite Books: Everything written by Wilbur Smith.
Fondest memories: Laughing with buddies. Having buddies. Being married to my best buddy for almost 35 years. Reliving happy times with long lost buddies. Telling Fritz Kempner and Edgerton stories and laughing with tears coming down my face until my ribs hurt.
I hope to see you all at our reunion. With the efforts of many classmates, it will be one to remember.