Welcome to the website of PC's Class of 1960!
Our 55th Reunion took place on April 30 and May 1, 2015. On Thursday, April 30, six class members played golf at the Philadelphia Cricket Club. On Friday, May 1, about a dozen of us took a tour of the campus, enjoyed a Class luncheon as well as a fine reception and dinner. Thanks go to Jim Arrison for organizing and leading the reunion. Here's a photo on the senior stairs.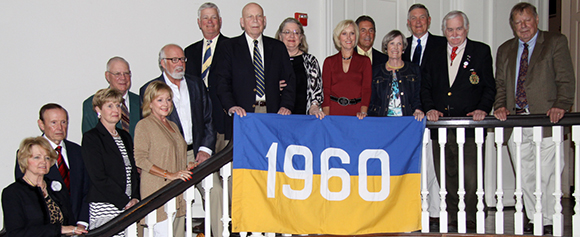 If you're a member of the Class of 1960, check your personal page to verify your contact information. Send a recent picture, pertinent data, and reflections on your life and times.
In 2010 we had a highly successful 50th Reunion. Read all about it. We won two awards for class giving for our 50th reunion. See details and continue to give generously.
See the photos below. Who are these people? They all came to our 50th Reunion. Move your cursor over each photo for a hint, then click on the photo for the answer. In the immortal words of William Wordsworth (or, if you prefer, Blood, Sweat, and Tears): "The child is father to the man."